Digitalisation for business continuity in the public sector
With the return of the public administration in their regular offices, protocols will need to be urgently developed that ensure employees' safety, organisation of the work and continuation of remote execution of selected work processes. Learning the lessons from the pandemic response, further digitalisation will be pursued, supported by amended legal regulations to better prepare the administration in an event of recurring pandemic or future crises. Newly designed digital work procedures will be proposed to selected central institutions and scoping of the needs of these institutions will be conducted to ensure smooth transition to digital work with a list of priorities ad timelines for enabling digital processes. Selected institutions will be supported with proposed structures of shared platforms and assessment of levels of remote access, prior to a wider multiplication of the model in other institutions.
Several important electronic services will be developed within the Project that are often used in a citizen's lifecycle, such as electronic enrolment in kindergarten, enrolment in primary school, applying for students scholarships and nostrification of foreign diplomas. Тhe development of е-services will contribute for providing better and simpler public services, as well as for the reduction of physical contacts with the administration in times of crisis.
Period 01.09.2020 - 30.04.2021
Donor: Government of the United Kingdom - British Embassy Skopje
Project beneficiary: Selected central institutions, citizens
Main goal:
To support establishment of protocols for digital access and storing of documents for the public sector, and pilot new digital public services, to be used as models for further digitalisation of public services.
Expected results:

Procedures in place for enabling remote work based on digitalisation
New mechanism for business continuity via digital work
Services in need of urgent digitalisation identified and protocols prepared for digitalisation
Pilot and case study delivery of three digital administrative services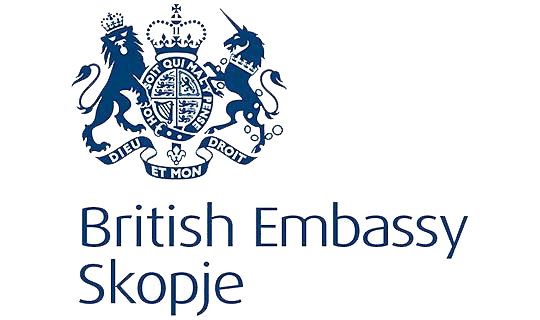 The Project is funded by the Government of the United Kings, with support of the British Embassy Skopje